We are happy to present you an exclusive review of the Def Leppard & Mötley Crüe concert that took place at MVM Dome in Budapest, Hungary, on May 29th. It was written by our correspondents and friends, David Vartabedijan and Dušan Perović.
Motley Crue and Def Leppard in Budapest: C'mon Let's Get Rocked
Time to gather some scraps for old days or a desire for a new beginning? Isn't selling around 200 million albums enough for a retirement fund? Damn it, who knows. But the only thing that is certain and verified is the fact that last year's "The Stadium Tour," a joint tour of the bands Motley Crue and Def Leppard (with guests Poison, Joan Jett and the Blackhearts + Classless Act), was the most attended concert event on that continent.
Europe is something else, and as such, it was left for the upcoming summer. And in Budapest on that Monday towards the end of May, it truly felt like summer. The beautiful weather attracted a lot of self-funded strollers, ahem, audience to the new Budapest "MVM Dome" arena. The foyer of the arena was crowded, with people gathering around stands with sky-high prices and bars serving drinks. Inside the arena, there were seats on the ground level, and the audience was slowly taking their places. In a venue with a capacity of 12,200 possible souls, if I were counting, even in my dreams, I would probably stop at a number of around 9,500 witnesses.
The event was opened by Def Leppard right on time, at 7:15 PM. Since as far back as 1987, Def Leppard (excluding their first three EXCELLENT albums) has become and evidently remained an orderly and highly professional band. As a group with nine hands, they never miss a beat. Transparency is their trademark. No lies, no deceit. All five band members perform their tasks in their primary and secondary roles impeccably: playing and entertaining. They tested the ground with the song "Take What You Want" from their latest album, "Diamond Star Halos." The sound was fantastic, with accompanying light effects and video walls. Perfect for getting the crowd moving. The audience stirred and the first big roar of approval followed with the start of the next song: "Let's Get Rocked." The seasoned pros know how to build a concert filled with generational hits. And the hits were as follows: "Animal," "Foolin'," "Armageddon It" (not AI, but ai, as everyone sings backing vocals—fantastic!)
"Kick" is also one of their recent songs, showing the powerful punch this Leopard can deliver. I haven't heard a better bass drum at a concert in a long time. After the upbeat numbers, they brought the atmosphere down with a series of slower songs: "Love Bites," "Promises," "This Guitar" (with Elliott Joe and an acoustic guitar in his hands), and "When Love and Hate Collide," which prompted a chorus of singing along due to their sentimental nature. "Rocket" brought back the tempo that I love—not faster than life, but strong, very strong. In memory of the late guitarist Steve Clark, Vivian Campbell played a white Les Paul guitar during the emotionally charged performance of "Bringin' On the Heartbreak." The instrumental "Switch 625," besides proving that the aforementioned Campbell and Phil (I never leave the gym) Collen are a tremendously talented and intelligent guitar duo, also featured a drum solo from the smiling Rick Allen.
"Hysteria" followed, accompanied by the hysteria of the audience singing along in unison for the next trio of songs: "Pour Some Sugar on Me," "Rock of Ages," and the final "Photograph." Ah, photos of the band from all stages of their four-decade-long career were plastered on the video walls, taking us older folks back to the time when Def Leppard ruled the world. But Def Leppard, with their attitude and joy of performing that could be seen on the face of every band member, still have plenty to offer, and considering their form and commercial appeal, it can continue for a while. Excellent 5.
Def Leppard Setlist:
After a break and stage preparations, accompanied by the introductory notes of the composition "Requiem in D minor" by W.A. Mozart, performed by that old-fashioned master who earned enough from selling chocolate balls to open a chain of betting shops, the stars of attics, basements, stairwells, and other strange places, the well-known group called Motley Crue, entered the stage amidst thunderous noise, echoes, and lights. They were joined by the new guitarist John 5 (formerly of David Lee Roth, Rob Zombie, and Marilyn Manson).
"Wild Side" for a start. Well, it was truly wild, thundering louder than necessary. Vince Neil struggled vocally to make his voice heard above the music. The two scantily clad "eurocream" backup singers served more in an aesthetic capacity (as expected in the Crue constellation). But everyone knows that song, and that's the whole point of the Crue concept: two perfect albums, almost three excellent ones, several good songs, plus some covers. That's their musical legacy. Shocking confessions, oh-so-much sex, dirtiness (did someone mention "The Dirt"?), fooling around, always carefully crafted image—all these are part of the other side that can easily be transformed into Crue magic. If you want a concert, go see Dream Theater. This is a white trash circus, the best, most decadent, loudest (dis)organized chaos with all the technical possibilities of today. Yet, I still don't understand how it hasn't led to them "overdosing" Vince Neil—it would be therapeutic.
"Shout at the Devil" (microphones for backup vocals hanging with LED lamps in the shape of inverted crosses), "Too Fast For Love," enough for reminiscing why I love Crue, even in their scandalous state. "Don't Go Away Mad," a beautiful song on the album. And if anyone dared to write a song titled "Saints of Los Angeles," it's them, and it would be truly perfect to hear that creed amidst the general noise, overshadowed by the sound of Mick Mars' guitar. But alas, that's the Mötley-esque disorganized-organized chaos to which the main actors are inclined. And when you add the beams of lasers roaming the stage (if Luke Skywalker had possessed them back then, the Death Star would have fallen at the beginning of the "Star Wars" franchise), and the relentless, scorching lights, not even hell would be hard for them to endure.
"Live Wire," "Looks That Kill," and "The Dirt (Est. 1981)" add to the overall frenzy. John 5's guitar solo was therapeutic, but I can't shake the impression that, despite his virtuosity, he doesn't quite fit into this narrative, except for the fact that the band's leader (Nikki Sixx, of course) respects him. The medley started with the unrecognizable "Smokin' In the Boys Room" and the sacrilegious "Helter Skelter," and transitioned into "Anarchy in the U.S.A." and "Blitzkrieg Bop" (the latter being featured on Vince Neil's 1993 solo single if anyone is interested). And then came what many people had been waiting for, the piano (?) and Tommy Lee starting the familiar intro to "Home Sweet Home." Ecstasy in the audience, yes, but I never favored ballads, luckily the audience sang this one.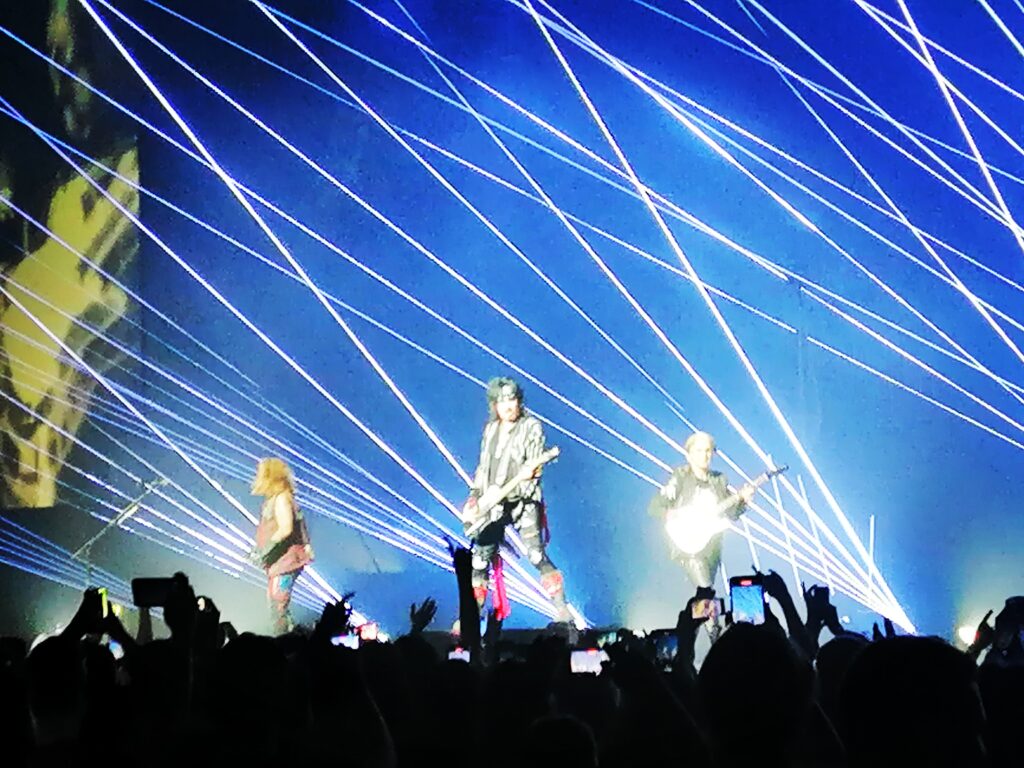 A flash royal of songs followed: "Dr. Feelgood," "Same Ol' Situation (S.O.S.)," "Girls, Girls, Girls" (greetings to the black female singer-dancer), "Primal Scream," and for the definitive end of the chaos, "Kickstart My Heart." Boom, bang, crash… everything goes… Yes, that's Crue, Mötley, of course, more of a gang than a band from the City of Angels, and yes, I got what I expected from them: a quality breakdown. There's no going further, they have some kind of magic, and even after 42 years of listening to the band and this being my sixth live encounter with them, I can't resist the magic.
Motley Crue Setlist:
Requiem in D minor, K. 626(Wolfgang Amadeus Mozart song)
Breaking News
The Dirt (Est. 1981)(w/Machine Gun Kelly on screen)
Guitar Solo(Solo by John 5 after Vince… more )
Rock and Roll, Part 2 / Smokin' in the Boys Room / Helter Skelter / Anarchy in the U.K. / Blitzkrieg Bop
T.N.T. (Terror 'n Tinseltown)
In summary: It was worth the trip, to witness both legends of the rock 'n' roll scene once again and have a great time with friends. But buying a t-shirt for 50 euros? No way, man! A hoodie for 100 euros? Seriously, are you guys normal?!
Text: David Vartabedijan
Photo: Dušan Perović Berlin Monroe