Crazy Lixx Unveils New Single "Fire It Up"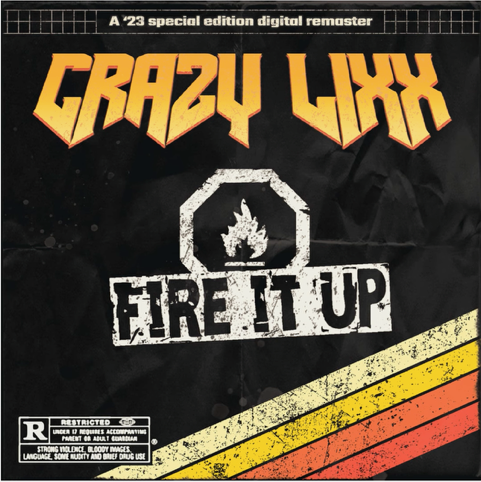 Crazy Lixx unveils their latest single, "Fire It Up" marking the third release from the highly anticipated album "Two Shots at Glory," set to launch in early 2024.
 
Delve into the unofficial music video for the 2023 single, creatively crafted using clips from the 1988 drama film "The Accused," starring Jodie Foster and Kelly McGillis. This video is part of the "Unofficial Sound Tracks" series initiated by Danny Rexon, Crazy Lixx's lead singer and producer. In this series, Rexon reimagines Crazy Lixx's music as the perfect soundtrack for 1980s and 1990s movies.
"Two Shots at Glory" stands as a tribute to Crazy Lixx's impressive 20+ year career, showcasing reimagined versions of their iconic choruses, memorable hooks, and electrifying guitar solos, alongside exciting new surprises. Stay tuned for upcoming announcements, including the full tracklist, release date, and details on pre-order opportunities.
 
Crazy Lixx will be on tour in 2024 including the Monsters of Rock Cruise 2024 departing out of Miami, Florida.  Current tour schedule is as follows:
 
March 2-7, 2024:           Monsters of Rock Cruise 2024/Miami, Florida
March 10, 2024:            La Piedad/Mexico City, Mexico
March 12, 2024:            Club Rbx/Santiago, Chile
March 13, 2024:            Teatrito/Buenos Aires, Argentina
March 15, 2024:            Jokers/Curitaba, Brazil
March 16, 2024:            Mister Rock/Belo Horizonte, Brazil
March 17, 2024:            Carioca Club/Sao Paolo, Brazil
July 26-28, 2024:           Rock of Ages Festival/ Rottenburg-Seebronn, Germany
 
Line-up:
Danny Rexon – vocals
Joél Cirera – drums
Jens Anderson – bass guitar
Chrisse Olsson – guitar
Jens Lundgren – guitar