Who are the best hard rock singers of today and does this genre still have big frontmen?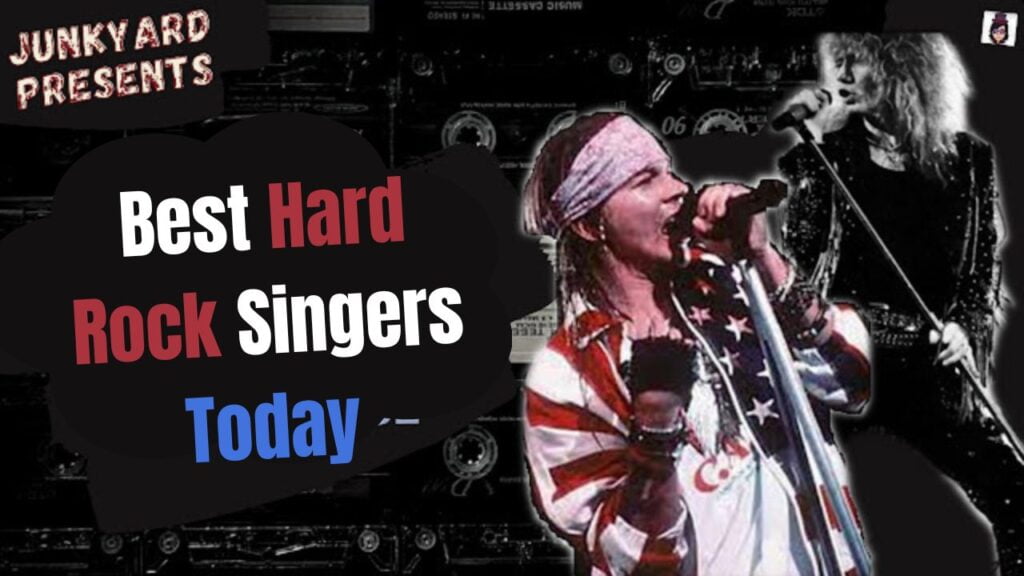 "Bro, this guy can't sing anymore, his voice is completely gone. Nothing live can be pulled out of him. He just stands on stage and doesn't move. They lower his pitch by three and a half degrees so that the songs sound somewhat decent. He's singing on playback…"
How many times have you heard something like this in conversations with people when it comes to singers of famous bands? Probably a lot, because simply put, that's just how it is. There is a part of the singers of the biggest and most famous rock bands who have simply aged and are no longer even 20% of that level they were at in their "time".
Such a situation can lead to the misconception that there are no more great singers on the current scene who can vocally deliver, for example, at least what they sang in the studio. Today, it is widely believed that there are simply no singers with youthful strength, charisma, and the ability to appeal to the audience "at first sight", as the giants of this music once did. Well, that's a mistake! There are, you just might not have heard of them. That's why Junkyard is always here to present you with a unique list of currently leading hard rock frontmen/singers on the music scene.
We have limited ourselves to bands that can be classified as hard rock, just so the list wouldn't be endlessly long. Also, this is not a ranking list, so the order of names on it is irrelevant. Thirdly, of course, there are many others who are not on this list, but simply put, this is our choice, the list is informative and entertaining in nature.
So we're looking for frontmen/singers who: sing live just as they do on recordings, have charisma, appearance, image, are true frontmen in the real sense of the word – in layman's terms, we're looking for younger generation singers like Steven Tyler, Axl Rose, David Coverdale, Jani Lane, David Lee Roth, Sebastian Bach, Tamie Downe, Phil Lewis, Joe Elliot, Jon Bon Jovi, and many others were back in the day.
Danny Rexxon (Crazy Lixx)
The frontman of the band Crazy Lixx, a songwriter and producer, founded this Swedish band in 2002 together with guitarist Vic Zino (who later joined Hardcore Superstar), and has been successfully leading this glam metal band ever since. On the seven albums that Crazy Lixx has released, he has proven his quality and incredible vocal abilities in countless situations. One of them was at the last Monsterst Of Rock Cruise festival in February of this year, where Crazy Lixx simply set the American audience on fire. And they also caught our Junkyard albumometer radar with their latest release, Street Lethal. In addition to his magical voice, Danny is also, as we said, a songwriter for bands on Frontiers music with whom Crazy Lixx have had a successful collaboration since 2009.
---
Erik Grönwall (Skid Row)
The fact that this young Swede has become the new lead singer of Skid Row is now a distant past. That's just how it goes these days. The new Skid Row album The Gang Is All Here just skyrocketed (also won the best albums of 2022 award) and proved that Erik has passed his baptism of fire and has definitely cemented his new position. The world hard rock scene has gone crazy for the new song, and it seems like it's all well-deserved. Four albums with the band HEAT and the time spent in the band (from 2010 to 2020), the victory in the Swedish competition Idol in 2009, and work with the power metal project New Horizon have definitely given him the qualifications to become a member of the once-great and but struggling Skid Row (and it is great again). Credit must also be given to Rachel Bolan, who, like a great recruiter, saw the potential of bringing in a free agent from the transfer market. A great move, in any case! Let's hope this collaboration lasts! It's worth mentioning that Erik has been fighting acute lymphocytic leukemia for some time now. Just another big battle that he won!
---
Kenny Lackremo (HEAT)
It would be a shame to mention the Swedish band H.E.A.T. (again with the Swedes, and there will be more) on this list without mentioning the current lead singer of the band, Kenny Leckremo, who replaced the previously mentioned Erik, who in turn replaced Kenny back in 2010. Leckremo's angelic, high and precise voice is one of the main secret ingredients of H.E.A.T., which has had two really top-notch singers during its not-so-long existence. The band is currently working on its seventh album and performed at the aforementioned Monsters Of Rock Cruise festival this year, where they, like Crazy Lixx, set the Americans on fire. In the lineup alongside older and more worn-out bands from the 80s, these young musicians sound like a much-needed refreshment.
---
Olliver Twisted (Reckless Love)
The next frontman on our list comes from Finland and is part of the band Reckless Love. The band which was founded in 2001 and has been led by Olli Herman, also known as Olliver Twisted, from the very beginning. With a slightly dirtier voice and a sleaze-glam image, Ollie is without a doubt one of the leading Finnish hard rock, or sleaze-glam singers at the moment. At one point, he even fronted the Swedish sleaze giants Crashdiet on their album "The Unattractive Revolution" (2007), replacing the band's original singer, Dave Leppard. With his main band Reckless Love, Ollie has released five fantastic albums, including their latest one from March 2022, entitled "Turborider."
---
Gabriel Keyes (Crashdiet)
Speaking of the band Crashdiet, we cannot leave this list without mentioning their current singer, the young Gabriel Keyes, who has, believe it or not, replaced three fantastic vocalists and frontmen who have passed through this band. The first singer and founder of the band, Dave Leppard, committed suicide in 2006 at the age of 25. The second one we have already introduced you to, while the third, Simon Cruz, spent time in the group from 2009 to 2015 and recorded two albums. So what about this latest one? Gabriel joined the band in 2019 and recorded the album "Rust In Peace," which ranked second in our selection for the best albums of that year. Objectively speaking, the guy had an extremely difficult task when he came to this band. He had to meet all those great expectations and maintain the quality that his predecessors had cemented. But you know what? It seems like that he succeeded in that. "Rust In Peace" was successful, and the new album Automaton from 2022 is maybe even better!
---
Jocke Berg (Hardcore Superstar)
Another frontman who comes from another Swedish sleaze-glam band, one of the biggest in every way, is Jocke Berg, the singer of Hardcore Superstar. The band was formed in 1997, and after several crazy releases, they managed to establish themselves as one of the leading sleaze rock bands of the Swedish, and then the global scene, which they successfully maintained until today. In terms of singing style, Jocke leans more towards that dirty, gritty sleaze manner, like the giants of this genre – Axl Rose or Tamie Downe. The band has just released their latest album "Abrakadabra", which is available everywhere.
---
Patrick Stone (Budderside)
The frontman and leader of the Los Angeles hard rock quintet Budderside, Patrick Alan Stone belongs on this list in every possible sense. After winning his battle with addiction, Patrick led the group Aces and Eights, and for a time also performed with the band Adler's Appetite. It's worth mentioning that he was recommended to join Velvet Revolver after the departure of Scott Weiland in 2008, and afterwards he almost ended up in the legendary Quiet Riot. However, he would ultimately shine the brightest with his own band Budderside, which he founded in 2015 and which was personally supported by none other than Lemmy Kilmister with his then record label. The first album received a fair amount of attention, while the group practically exploded with their second release, "Spiritual Violence". They are currently releasing singles one by one, which will eventually become their third album as announced. With his vocal and performing abilities, Patrick Stone represents the combination of two genres, hard rock and alternative/grunge, that fits perfectly along with the fantastic team he has assembled. He is definitely one of the main ingredients of the success of the band and one of the greatest singers from LA scene nowadays.
---
Marc LaBelle (Dirty Honey)
One of the youngest bands on the list is Dirty Honey also from Los Angeles, led by frontman Marc LaBelle. He is a unique representative of New Wave Classic Rock singers, but unlike some others, Marc and his whole team do not present themselves as flagrant copies of Classic Rock bands, because besides the influence they undoubtedly inherit from them, these guys have something of their own. Marc LaBelle can sound like both Robert Plant and Steven Tyler, but it would be more precise to say that he is an upgraded combination of these legends. The band has only released one album so far in 2021, and is currently the most sought-after young rock group in America (they have opened for big bands and are currently on their own tour). Their 2019 EP even made it onto the Billboard chart before they had a record label, which is commendable and definitely shows that this is a band that might conquer the rock world.
---
Dino Jelušić (Whitesnake, Dirty Shirley)
Our list also includes a guy from the so-called "our" region, specifically from Croatia, which is truly incredible, as you'll agree. However, once you get to know this guy's work a little, it will become completely clear to you why is his name next to the name of the legends Whitesnake. Dino started his career as a solo artist, but over the years he has collaborated with many world-renowned musicians. We would also highlight his band Animal Drive, his collaboration with the Trans-Siberian Orchestra, as well as an album he recorded with former Dokken guitarist George Lynch under the name Dirty Shirley. He is not a lead singer in Whitesnake yet (he only plays keyboards and sings backing vocals), but we will see about that in the future…
---
Archie Cruz (Santa Cruz)
The alpha and omega of the Finnish sleaze metal band Santa Cruz is the representative of a new generation of a special type of frontman – frontmen for whom the guitar is an integral part of their presence on stage. Something in the style of Dave Mustaine, James Hetfield or, for example, Kurt Cobain. In addition to his first-class sleaze voice, Archie can boast of very enviable shredding skills on the guitar, which also characterizes the unique sound with which Santa Cruz has been conquering fans around the world over the past decade. From their native Finland to the greatest center of rock power – the USA. Four successful albums in their career, problems with Archie's personality (which you will admit is an integral part of the personality of most of the greatest frontmen), have not at all undermined the success of the fifth album Return Of The Kings that came out in 2022.
---
Hennes Kett (Shiraz Lane)
The first of the two Henneses on our list also comes from Finland, from the band Shiraz Lane, which is certainly not well-known enough in our region. However, that doesn't stop us from including this excellent vocalist on our list. After all, if you've been following us, there should be no problem, as we have already written about this band. They are a fairly young band with young musicians, so we can safely say that their time is yet to come. So far, they have released three albums and an EP, and Hennes Kett has shown off his full vocal talent on almost every one of them, including the song "Harder To Breathe," which ended up on the popular video game Wreckfest, which is one of the band's biggest successes alongside winning a festival in Finland. He is definitely a guy to remember, as well as the band Shiraz Lane.
---
Hennes Braun (Kissin' Dynamite)
The second Hennes on this list comes from the German hard rock band Kissin Dynamite, who released their seventh album Not The End Of The Road in 2022. Despite having seven albums under their belt, most of you have probably never heard of this hard rock group from a small town in Baden-Württemberg, Germany. The fact that Germans have always had good rock and metal singers is evidenced by many giants of this genre who come from that country, such as Udo, Klaus Meine or Andi Deris. Hennes Braun is the combination of all of that them with the necessary youthful energy and some new charisma. In other words, he represents the best of what the German hard n heavy scene has brought to the rock n roll sound over the years.
---
Nathan James (Inglorious)
What would a rock list be like without at least one Englishman? Nathan James from the hard rock group Inglorious is just the man for this introduction. Like several others on this list, he began his music career on a reality singing program. It's not a big deal, as you can see. Such is the time we live in, and it doesn't diminish the talent that singers on this list possess. The British scene, as one of the two leading scenes, has always had great singers and frontmen. Without mentioning them all now, if you're looking for a new David Coverdale or Ian Gillan who can stand on stage and sing everything just right, then this gentleman is definitely the man for you. By the way, the two albums we reviewed, out of a total of four they released, attest to the fact that this is a group you shouldn't miss.
---
Erik Jayk (Wildstreet)
Eric Jayk is the lead vocalist and one of the founding members of the New York City-based rock band Wildstreet. He is known for his powerful and dynamic vocal range, which is heavily influenced by classic rock and heavy metal. Eric has been a part of Wildstreet since its inception in 2006 and has released several albums with the band, including their most recent album "Wildstreet III: Operation: Freedom," which was released in 2019. He is known for his high-energy live performances, unique charisma and has toured extensively throughout the United States and Europe with Wildstreet. Speaking of his style we could say that he is a perfect combination of rock frontmen both from sleazy LA Sunset Strip and the New York late 80's rock scene.
---
Lizzy DeVine (The Cruel Intentions)
Many would probably remember this Swedish guy from the mid to late 2000's when he formed a band Vains of Jenna in 2005, which gained popularity in the glam metal scene, not only in Europe but in USA too. After the band disbanded in 2012, Lizzy joined The Cruel Intentions as their frontman, where he has been since 2016. He is known for his energetic and charismatic stage presence, as well as his powerful vocals and guitar skills. Lizzy has released several albums and toured extensively with both bands, and is highly regarded within the rock and metal music community. His singing style is the epitome of what we often call sleaze rock or sleaze metal sounding voice. In 2022 his band The Cruel Intentions released it's second album Venomous Anonymous that you simple cannot miss.
So that was it people. There are many other singers from the hard rock scene that are great, but this was our choice. Feel free to write in the comments who else could be here on this list.