Girlschool Releases New Single "Are You Ready?" from Upcoming Album WTFortyfive?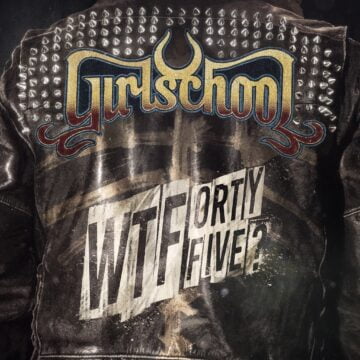 British heavy metal band Girlschool are back with a bang. The band has released a new single titled "Are You Ready?" from their upcoming studio album WTFortyfive?, which is set to hit the shelves on July 28, 2023. The new track features the signature sound of Girlschool with hard-hitting guitar riffs, pounding drums, and powerful vocals.
The four-piece band consisting of Kim McAuliffe, Denise Dufort, Tracey Lamb, and Jackie Chambers can be seen in the accompanying music video for "Are You Ready?" in a cool cartoonish world.
Here is the official statement from Girlschool:
FORTY-FIVE years young, British hard rock royalty Girlschool come out swinging with their 14th studio album WTFortyfive?, a deliciously dirty declaration that age is a number that shows how much real raw attitude you have when it really counts. Kim McAuliffe (guitar/vocals), Denise Dufort (drums), Jackie Chambers (guitar/backing vocals) and Tracey Lamb (bass) leave the grit under their finger nails and the scuzz on their crusty leather boots as they riff and stomp their way through 12 statements of intent showing major attitude, some great melodies, and a consistent crunch to every guitar.
There's the addictive mototörcharged scuzz of "It Is What It Is", the Wandsworth via Sunset Strip sway of "Bump In The Night", the youthful, punky romp of "Up To No Good" and the smart, sassy, rock 'n' roll hooks of "Believing In You", with McAuliffe's vocals sounding as sharp and raucous as ever. Lead single "Are You Ready?" sets the pace, a racy, raunchy, fun-saturated shape-shifter co-written with Alcatrazz's Joe Stump that shows Girlschool's leathers may still carry the well-baked battle scars of decades gone by, but their songs and attitude are as fresh, fun, heavy and catchy as ever before. And if THAT isn't enough, their raunch roars and rolls alongside Biff Byford (Saxon), Phil Campbell (Motörhead, Phil Campbell and the Bastard Sons), and Duff McKagan (Guns N' Roses) on a cracking cover of "Born To Raise Hell"! So throw away your inhibitions and join these spectacularly wild women on the most glorious of rock 'n' roll rides. Lemmy knew, so should YOU!
Track List for WTFortyfive?:
01. It Is What It Is
02. Cold Dark Heart
03. Bump In The Night
04. Barmy Army
05. Invisible Killer
06. Believing In You
07. It's A Mess
08. Into The Night
09. Are You Ready?
10. Up To No Good
11. Party
12. Born To Raise Hell