The 69 Eyes: Death Of Darkness – Is It Any Good?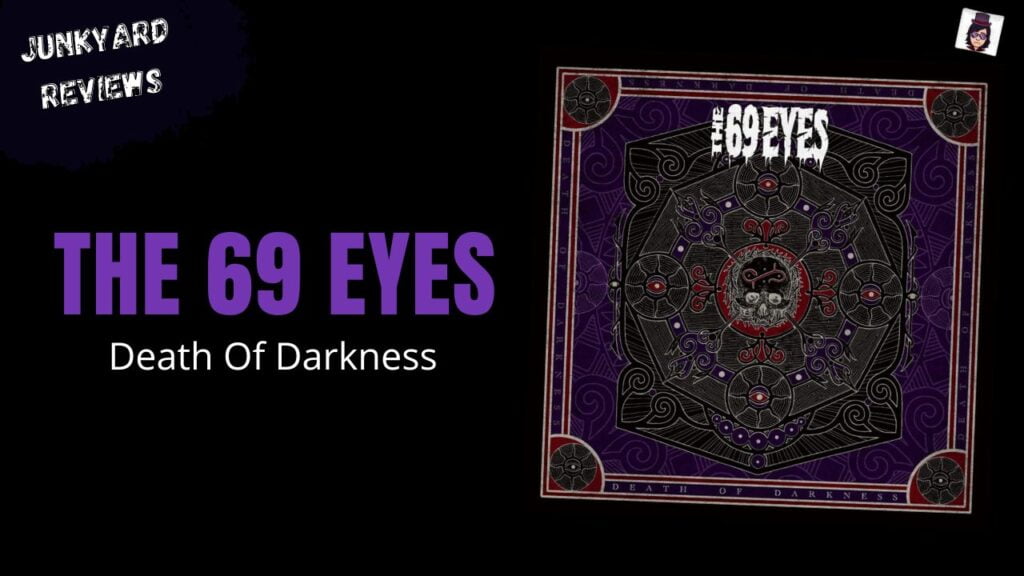 The legendary Finnish rockers The 69 Eyes released their thirteenth album, "Death of Darkness", on 21st of April 2023. This is somewhat of a milestone album, considering it's their thirteenth release. For ordinary bands, milestone albums are usually at round numbers, but not for the Helsinki vampires, as is more than evident.
As we've done with some previous reviews, the album "Death of Darkness" is also rated according to the following scoring system: 1 point for a song we liked; 0.5 for those that are somewhere in between and 0 for songs we didn't like. Unfortunately, that's just how it is. We used to write traditional long reviews, but these days, this format seems to work better.
Death Of Darkness ratings by Junkyard Rock Stories
1. Death Of Darkness 0,5
2. Drive 1
3. Gotta Rock 1
4. This Murder Takes Two feat. Kat Von D 1
5. California 1
6. Call Me Snake 1
7. Dying In The Night 0,5
8. Something Real 0,5
9. Sundown 1
10. Outlaws 1
Ratings: 8,5/10 – 85%
Overall impression
All in all, as can be seen here, we have a highly rated album that is truly exceptional in terms of its quality. At first glance, it seems to be a bit cleaner in terms of production than some of the previous The 69 Eyes releases, in the sense that it is smoother and a little less raw and heavy rock-oriented. However, this in no way diminishes the high level of quality that the Helsinki vampires have shown on these ten songs. This is especially evident in songs like "California," "Call Me Snake," and "Drive," which, although classic The 69 Eyes pieces, are never boring or repetitive. This is the unique style that the band has developed over its rich career. Here, we should also mention the super ominous dark country rock ballad "This Murder Takes Two", performed as a duet by Jyrki and tattoo artist/singer Kat Von D, which represents perhaps the most unexpected moment on the album. In a positive sense, of course. "Gotta Rock" is a cover of the Finnish hard rock band Boycott and, regardless of that, is still one of the better songs on the album because The 69 Eyes managed to preserve its original uniqueness while also adding their recognizable and irresistible touch.
The other songs on the album are more or less completely in line with the overall story, making a rounded whole where none of them will make you press that skip button. In any case, Death Of Darkness is a great release from a serious band that has fully justified expectations. The 69 Eyes have made many top-notch albums over their career, so it's hard to quickly rank this one among them, but what's important is that they have managed to maintain a high level of musical creativity and remain true to themselves on each of them. For a 13th album, this is excellent. Quality goth 'n' glam, as Jyrki called it, that certainly won't disappoint you.