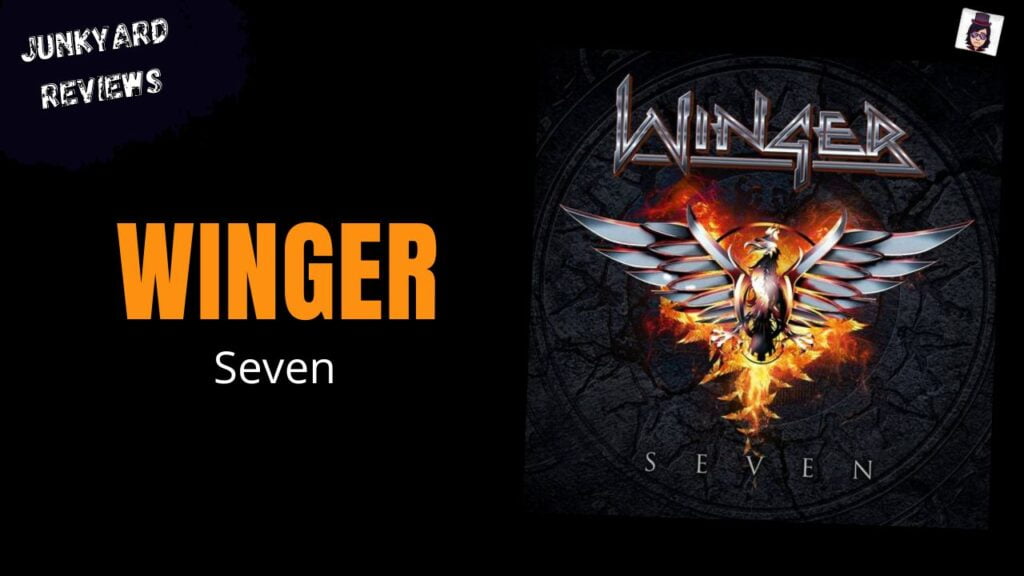 As promised, here is the review of the new Winger album that came out this May 5th 2023. The seventh in the career of this New York band, and appropriately named as such, comes nine years after their last album "Better Days Coming" from 2014. Was it worth the wait? Find out in the following story.
But before we start with the rating, in a well-known style, let's see what the fans we asked on Reddit think about the album "Seven". Here are some of the responses:
"The first two singles were by far the best material. A lot of meh in there despite an upgrade in production and Kip really going for it. Where did the killer riffs and solos go??? A couple songs had killer solos but Reb ducked us for the most part. I was disappointed."
"Great album. Easy 1st listen that makes me want to eagerly run through it again."
"Big production. Big sound. Some complexity here and there. Some outta left field moments which I'm always hoping for."
"I'm stoked with this one. One of my favorite bands of all genres and so you're always wondering if your expectations are too high. Mine were met well. I'd say the only thing is that I was craving some more Reb fire. Appreciate that it was 12 songs."
"I like it a lot. Cracks me up how many people still associate them with their eighties sound. They play a totally different style now. Very moody, catchy hard rock with none of the pop overtones they used to have. People make up their mind and that's just it. I've never understood this about music fans."
"I'm really surprised "Resurrect Me" isn't a single. It's catchy and crunchy. Sweet solo. I can't shake it."
We also did a short poll which came out like this: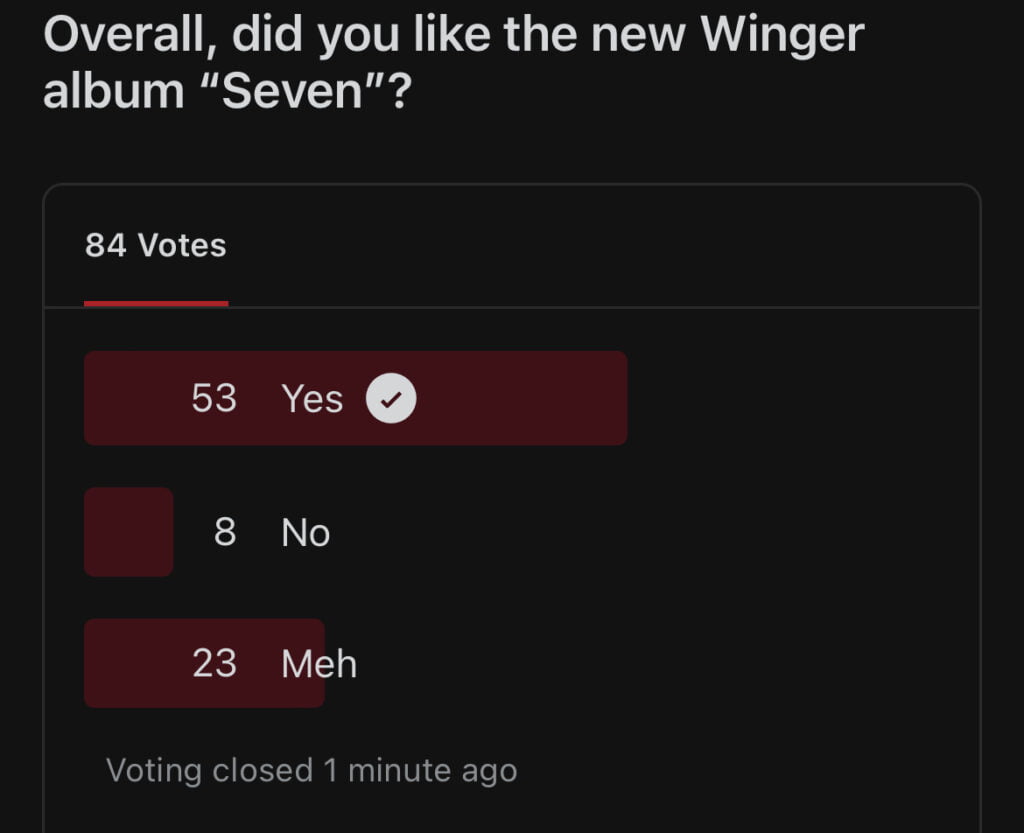 And now here is our ratings. We used the well known 1 for song we like, 0/5 for something in between and 0 for songs that we don't like forumula:
1. Proud Desperado – 1 H
2. Heaven's Falling – 1
3. Tears Of Blood – 1
4. Resurrect Me – 1 PH
5. Voodoo Fire – 0/5
6. Broken Glass – 0/5
7. It's Okay – 1
8. Stick The Knife In And Twist – 1 PH
9. One Light To Burn – 0/5
10. Do Or Die – 0/5
11. Time Bomb – 0/5
12. It All Comes Back Around – 1
Ratings: 9,5/12
So, the rating of the new Winger album "Seven" is 9,5/12. If we were to give you an answer to the question asked at the beginning of the text, the answer would be "yes, it was worth waiting so long for this album". The ratings confirm this answer. All in all, the album contains something for everyone. It has influences from the 80s, some songs have a Pull vibe, but most of them are adapted to today's times, which is a big plus for Kip Winger and the crew. The song that opens the album, "Proud Desperado", has already become a big hit and that's no accident. In addition to that, the melodic rock hurricane "Resurrect Me" and the ultra-fast rocker "Stick the Knife in and Twist" (probably the most rocking thing Winger has ever recorded) have the sam capacity to become hits as well. It's a wonder they didn't release at least one of these two songs as a single.
As expected from Winger, there are also slower songs on this release that meet expectations, such as "Broken Glass" and "All Comes Back Around", which was also released as the second single. If we add talk-box riffage from the song "It's Ok" or 80s-style melodic keyboards from "Heaven's Falling", we get the complete picture and all the necessary elements for which Winger was known trough their career.
Individually, Kip Winger himself deserves praise, as he simply sounds phenomenal on this album and thus belongs to the group of singers from the 80s who have managed to preserve their voice. And there are very few of those today. Paul Taylor added the necessary dose of extravagance to some songs with his keyboards, while Rod Morgenstein on drums, as always, did an excellent job. As for guitars, John Roth and Reb Beach fired a barrage of guitar riffs that one would expect from a melodic hard rock band with that pedigree. There is material here for beginner guitarists to learn their first riffs. As for the songs as compositions, the whole band did a magnificent job.
The only negative, or rather weaker side of this album, is unfortunately Reb Beach and his solo playing. There are songs on this album that simply cry out for the bravura that made Reb Beach being what he is in a world of guitar slingers. Overall, that is simply missing on this album. We don't know what the problem was. Was it an agreement within the band not to indulge too much in guitars this time, or did he exhaust all his ideas and excitement on Black Swan and Whitesnake (which is less likely)? But based on fan reactions combined with our opinion, we come to the conclusion that this is exactly what we miss the most on this release. Just listen to the solos in songs like "Heaven's Falling", "Voodoo Fire", or "Broken Glass" and you'll hear a somewhat withdrawn Reb Beach. It's not terrible or bad, we just expected a much greater imput from the guitar master he actually is.
All in all, a very good Winger album that we have been waiting for a long time and we really hope that we won't have to wait so many years for a possible new adventure again.
If you like what we are doing, be sure to follow us on Facebook