Paramount+ Announced 'I Wanna Rock: The '80s Metal Dream' Docuseries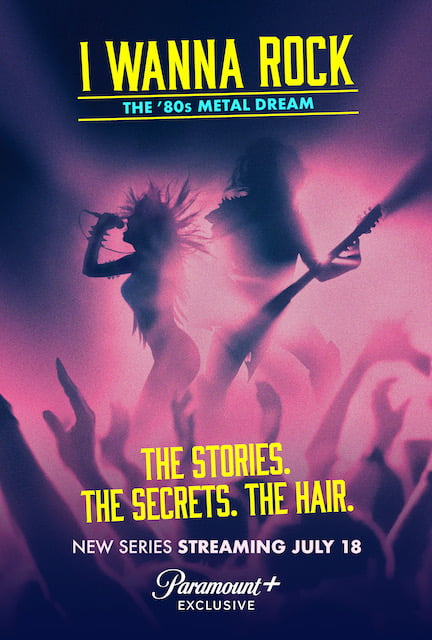 Paramount+ is set to take viewers on a nostalgic journey back to the glory days of '80s metal with their latest docuseries, "I Wanna Rock: The '80s Metal Dream." This captivating three-part series will make its exclusive premiere on the streaming service on Tuesday, July 18 in the U.S. and Canada, followed by international releases on Wednesday, July 19 in the U.K. and Australia. Audiences worldwide can anticipate its arrival in other markets later this Summer.
In "I Wanna Rock: The '80s Metal Dream," audiences will witness the relentless pursuit of fame by five aspiring musicians in the fiercely competitive world of '80s metal. The series promises to offer a fresh perspective on the genre, as these young dreamers navigate the trials and tribulations of their musical careers. Through their triumphs and failures, viewers will gain insight into the untold stories behind the iconic era of hairspray, spandex, and leather pants.
Prepare to be transported back in time as "I Wanna Rock: The '80s Metal Dream" shines a spotlight on the individuals who shaped the metal landscape of the '80s. With its compelling narrative and rare glimpses into the challenges faced by these aspiring rockstars, the docuseries is bound to captivate audiences worldwide. Don't miss this opportunity to experience the electrifying atmosphere and revel in the untold stories that fueled the rise of '80s metal.
The series features:  JOHN CORABI, JANET GARDNER, VICKY HAMILTON, DAVE "SNAKE" SABO, KIP WINGER
Official loglines for I Wanna Rock: The '80s Metal Dream:
Ep 101 – "I Wanna Be Somebody": As '80s metal sweeps America, five rockers set out to make it in the world of hair spray and spandex.
Ep 102 – "Headed For Heartbreak": Metal has been taken to new heights. As our rockers become stars, they battle personal demons, sexism – and even Congress.
Ep 103 – "Smells Like Change": From country to grunge, the world's taste in music is changing, and every metal musician is fighting for survival. Some will make it, some won't … but all will be changed forever.
Making music-related films or docuseries has undoubtedly become a popular trend in recent years. We witnessed the tremendous success of movies like "Bohemian Rhapsody" showcasing Queen and "The Dirt" portraying Motley Crue. Additionally, TV shows like "Stranger Things" and "Peacemaker" have incorporated music as a significant element. Therefore, from this perspective, the announcement of "I Wanna Rock: The '80s Metal Dream" seems promising. However, it remains to be seen if the series will bring anything new to the table that hasn't already been explored in numerous programs or on the internet. Regardless, it should still provide an entertaining viewing experience. We just need to wait and see…