Sleazy 80s B-Movie Horror Vibes in Spyder Byte's New Video 'Hooked'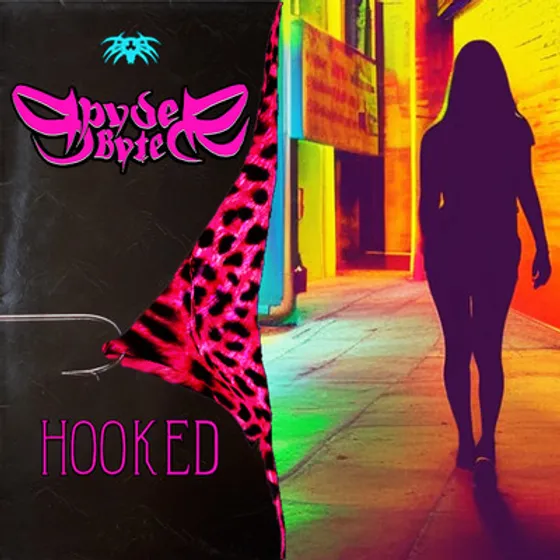 UK sleaze rockers Spyder Byte release their new single 'Hooked' that's available everywhere along with the captivating video.
Here is the band's statement about the release (with slight edits):
Enchanting eyes tell no lies… Finally we can share with you the video for Hooked. Big thanks to all the team at Devolution Magazine for premiering the video. Huge shout out goes to Talon from Gallow Wood Media , Polly Anther , Justin Becker SFX and Tattoo Artist and Fort Amherst for helping with the production. We are super proud of this song and video, and you guys have been lapping it up already If filthy, sleazy, 80s B-Movie Horror films are your bag, you're gonna freak when you watch this. Head to our YouTube channel or click the link from Devolution to watch NOW‼️
Enchanting eyes tell no lies. 'Hooked' tells the story of forbidden fruit found at the end of a bar with a glint in her eye and a shot in her hand. She stares into your soul and twists your mind until all you can think about is her. You've got to know her. Her sights are locked on you. She's got you hooked. With an infectious bass line leading the charge into a Guns 'N' Roses-esque groove; the screech of the guitar, the heart pounding drums, and the wailing of a man captivated by allure, 'Hooked' launches into a sleazy decadent Rock n Roll swagger that will leave you begging for more.
Spyder Byte were formed in 2011 in Kent, UK, and so far, they have released two albums: 'Addictive' (2015) and 'When The Lights Go Out' (2019), along with the debut EP 'Love Bomb Ticking' (2013).
If you are a fan of big choruses, crazy hooks, and filthy riffs, then Spyder Byte is just the band for you. You should also check out their social network pages for more mesmerizing sleazy content.
Spyder Byte @ Facebook – Instagram – Spotify