Album Battle: Dokken – Heaven Comes Down -vs- Lynch Mob – Babylon
Instead of doing two separate album reviews, let's have an Album Battle. It's been a while since we last did one, and we believe we have a special matchup this time: Dokken vs. Lynch Mob. Both bands recently released their newest albums, with Dokken dropping their 13th album, 'Heaven Comes Down,' on October 27th, and Lynch Mob releasing its 8th album, titled 'Babylon,' seven days before that.
You know how these things work: we'll match the songs from the albums and choose the ones we like more. In the end, we'll see which album gets more votes, and that one is declared the winner. It's as simple as that. So, let's get it on. Who wins this time – Don Dokken or George Lynch?
Just a quick note before we start: this is simply a way to make things a bit more interesting. It's our statement, and you can agree or disagree. No hard feelings to any artist whatsoever.
1.Fugitive vs Erase
The openers are always important, right? On one side, Dokken introduced us to the new album with 'Fugitive' as the single. The song caught our attention from that moment with its great guitar work and melodic choruses. It's a pure Dokken tune, no doubt. On the other hand, 'Erase' is a quality rocker, but it lacks hooks and doesn't have that little magic that makes you want to listen again. This is an easy point for the Dokken camp.
2.Gypsy vs Time After Time
Let's first talk about the elephant in the room: Don Dokken's voice has not been at its best in recent years, and we all know that. However, on this record, he genuinely tries to make it work, and in some ways, he succeeded. Perhaps some songs would be much better with his old voice, like the one called 'Gypsy,' but it is what it is. Musically speaking, guitarist Jon Levin and the guys nailed it again.
On the other hand, George Lynch recruited a new singer called Gabriel Colon. He is much younger than Don, and his voice is in much better shape. He did great work on these songs for sure. However, he sounds a lot like Robert Mason from Warrant, who did two records with George Lynch in the recent past under the name The End Machine. Anyway, speaking about the songs themselves, it's actually a tie, but we need to choose one. The Lynch Mob song has a bit more character, so we choose 'Time After Time.
3.Is It Me Or You vs Caught Up
Is It Me Or You' is one of those songs—classic hard rock riff, mid-tempo, nothing special, really. On the other hand, we have perhaps the best song on the 'Babylon' album, called 'Caught Up.' It sounds like the old Lynch Mob. George Lynch does the job really well. This is his territory and exactly why Lynch Mob was so different from Dokken from the beginning. An easy point for the Lynch Mob camp.
4.Just Like A Rose vs I Am Ready
As Lynch Mob took the lead, Dokken answers with a cool melodic hard rock tune called 'Just Like A Rose.' It is modern Dokken, yet it has that old darker vibe that sets this song higher in the overall rating on this album. On the other hand, it is 'Panama vol. 2' or something, just by listening to that opening riff. Anyway, 'I'm Ready' is a decent rocker, but it lacks the hooky part again, so the points go to Don and Co.
5.I'll Never Give Up vs How You Fall
And we have the first ballad at spot number 5 on 'Heaven Comes Down.' The metalloid guitars in the beginning are really, really good, proving once again that Jon Levin was not just a replacement for George Lynch. The guy has his own tone that fits this new age Dokken very well. Speaking of Don, he handles this ballad amazingly well, giving the song what it deserves.
On the other side of this battle, we have a fast and furious rocker, 'How You Fall,' in a typical George Lynch Mr. Scary/Judas Priest manner. Maybe this one has something to do with Richie Faulkner from Judas Priest since he is in a relationship with George's daughter, Mariah Lynch. Just kidding. Now, it's hard to choose between a ballad and a fast rocker, but again, the Lynch Mob one has great guitar work that lacks the singing element to set it up high on the bar. It's like, 'Okay, I like this song, but can I remember it to play it again out of the blue when I want something to listen to?' The answer is NO. So, the points go to Dokken's ballad because of that.
6.Saving Grace vs Million Miles Away
Now, in the beginning of the second half of both albums, things have turned around. We have 'Saving Grace' by Dokken, which is a dragged-out doom rocker with nothing really special in it. On the other hand, it is time for George Lynch and his team to present us with a ballad called 'Million Miles Away.' It has everything that a ballad should have—really well-performed with a lot of passion. Dark, with a bit of an alternative vibe. A great one that gives Lynch Mob another point.
7.Over The Mountain vs Let It Go
These two are far from the 'better' ones on the albums. 'Over The Mountain' has that 'over the hills and far away' vibe, which was predictable from the title itself. On the other hand, Lynch Mob's 'Let It Go' is just a pure album filler and nothing more. The points go to Dokken.
8.I Remember vs Fire Master
The first reaction when hearing song number eight, 'I Remember,' was: Is this going to be 'Alone Again' 2.0? But it was not, and it doesn't need to be, although it resembles it very much. On the other side, we have Lynch Mob's 'Fire Master.' Again, a faceless song that many fans would probably never intentionally play again. In other words, it is a 'skip' song, no matter if you listen to it from the CD or a streaming service of your choice. Although 'I Remember' is not one of the best from Dokken's album, it wins in this match. Points for Dokken.
9.Lost In You vs The Synner
Lost In You' is a decent song and it could be even better if Don could reach the old levels of his singing ability. Nothing is wrong with the song, but it lacks just that. It is what it is, and we need to be honest. It could have easily been one of the best on the album. On the other side, 'The Synner.' Well, in the lack of better words, just another faceless song. Again, points go to Dokken.
10.Santa Fe vs Babylon
The closer of 'Heaven Comes Down' is an acoustic tune called 'Santa Fe.' Okay, this is not something you expect from a band like Dokken, but it is obvious that the song is a kind of retrospective of Don's life. If not mistaken, he lives in Santa Fe. (but again, maybe I am wrong). Speaking of Lynch Mob's closing tune, they decided to go for an epic eight-minute tune, 'Babylon.' For a song to be the epic closer of an album, it must not be boring and repetitive. This one, sadly, is. Yet again, Dokken wins this match. 'Santa Fe' is just more pleasant, more interesting, and it makes you listen to it until the end to hear the story.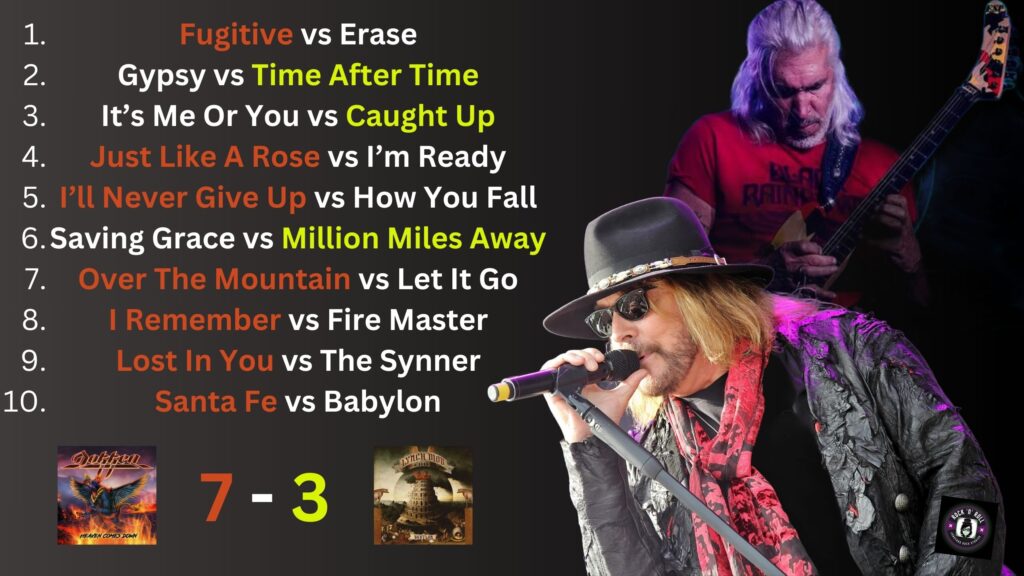 That would be it, friends. A decisive victory for 'Heavens Come Down' by the band Dokken. Since the victory is so convincing at 7-3, there is no need to further compare for the sake of results. We'll do it just for formality. It's an extra time, whose album cover is better. Although neither of them is particularly impressive, the victory here goes to Lynch Mob as the cover of the 'Babylon' album is much more interesting than the fairly generic cover of the 'Heavens Come Down' album.
In the end, we want to hear from YOU. Which album won in your own album battle showdown?