Wildstreet – III (2021) Review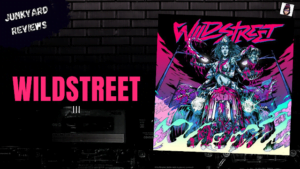 After almost ten years of anticipation New York rockers Wildstreet released their third album simply named III. For someone who is discovering this band right now that might sound like a huge gap in band's discography, but in reality it was quite an opposite. The band adopted that new approach which is now known as a "releasing singles strategy" that started all the way back in 2017. It is a legitimate strategy nowadays by the way, but you know what, nothing beats the day when an album is released. Sure it means more streams and more buzz created for every single release but in the end it's an album that gives us all the required ingredients to understand what one band really is about.
And what is Wildstreet all about than? Led by the charismatic singer and frontman Eric Jayk, complemented with a group of first class musicians Jimmie Marlowe (guitars), Johnny D (bass), Lock (drums) and Dom (guitars), this five-piece unit is a group that you simply cannot miss if you are into pure sleaze hard rock. But things are not just that simple when Wildstreet is involved, especially when you start digging the album itself. It starts on a very high note with an opener Tennessee Cocaine in the vein of the sound trademarked by the late 80's bands from both Sunset Strip and New York acts such as Faster Pussycat, Guns N Roses, The Throbs and even Spread Eagle. High-octane blazing guitar riffs combined with Eric's dirty and raspy vocals and some stone hard throbbing rhythm section will immediately bring you back in the era when rock n roll was about sleaze, debauchery and fun, like for example in the second song of the album called Three Way Ride. Next one Set It Of is a bit different with that crunchy riffs and some subtly layered synths underneath which alludes that Wildstreet is not afraid to go into an experimentation. After that things get a little bit mellower as we have the first ballad of the album which is well written and flawlessly performed.
The other half of the album starts with a furious rocker Midnight Children which was the only remaining song, the last peace of a puzzle, that we hadn't heard as a single. And boy, what a song it is. After ballad-style relaxing this song feels like a hurricane that is coming to destroy everything on it's way. It has almost a Judas Priest vibe with all that galloping riffs, screaming vocals and pounding bass lines. It is also the moment when the whole story is becoming more serious, more scarier, darker and gloomier which continues all the way to the end. The next one is Born To Be, which is in our opinion one of the best songs that Wildstreet has written. Remember all that sleaze and debauchery mentioned before? Yes it is still present here but it is now on a whole different level than before. This is where the band proves that it is not all about being stuck in the 80's or early 90's. Modern hard rock can also be fueled by all those ingredients and remain fresh and relevant. Next tune called Raise Hell is a pure proof of that. By the way this songs was the first one to be released back in 2017.
And now ladies and gentleman, prepare yourself for a "seven and a half minutes psychological thriller that uses a horror influenced metaphor to paint a picture of the depths in a main characters madness". Yes, you heard it! It is exactly how Gabe Anel from Hair Metal Mixtape described it along with Eric Jayk in episode the no.4 of his show. That is the song that closes the album and it is called simply – Mother. I also have just one word for it – EPIC. And it really is. It's and epic tune that we are sure nobody expected to hear in Wildstreet's catalog. It is Coma (GNR) level epic to be precise. Just pay attention to those creepy Eric's vocals and sinister guitar riffs and you'll get the feeling of being inside a house tormented by ghosts and madness for real.
As I mentioned before the other half of the album is the place where Wildstreet showed us that they are not afraid to experiment with stuff. The aforementioned song Mother just proves and seals that claim. In conclusion, Wildstreet is unquestionably not just another sleaze rock band stuck in the 80's. It is a cool and modern hard rock band with some obvious sleaze-glam influences which combines elements of old and new sometimes entering more classic rock, pop and even doomy-gothic influences.
On the other hand, I must say that despite all that great music, Wildstreet is one of the most hard working bands in rock'n'roll right now. They are all over the place and they always have something new and something fun for their fans. I hope they will get even more of that  attention by the fans around the globe, cause they really deserved it.
Check out out ratings for this album!
Wildstreet @  Facebook – Twitter – Instagram
You can listen to the whole album here